Getting Help with Knee Pain in Lake Worth
Knee pain colors your entire day, limiting your mobility and draining you of precious energy. If you've tried traditional medication and other remedies, you may have had mixed results. Lake Worth chiropractic care is an accepted and effective treatment that alleviates knee pain and helps your body heal. At Lake Worth Chiropractic and Wellness, you can receive care for your knee injured in an accident or due to age-related conditions.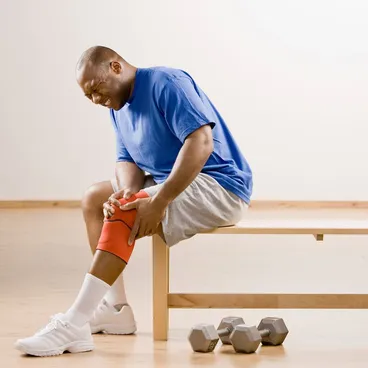 Let's look at some of the causes of knee pain and chiropractic remedies to alleviate your discomfort.
What Are the Causes of Knee Pain?
Many conditions can lead to knee pain, such as:
Obesity
Old injuries
Arthritis
Auto accident
Sports injury
Bursitis
Knee pain is also caused by:
Injury
Fracture
Overuse
Sitting for long hours
Your chiropractor will ask you for information regarding your pain, including when it started and possible causes. Be ready to share as many details as you can remember. This helps your chiropractor in Lake Worth determine the best treatment.
Can Knee Pain Be Treated by a Chiropractor?
Your chiropractor may use one of the following treatments, depending on your specific circumstances:
Trigger point therapy involves placing pressure on points around your knees to reduce the pain.
Spinal adjustment helps when there's a spinal imbalance. The chiropractor puts pressure on your joints to reduce the inflammation that causes knee pain.
Low-level laser therapy reduces inflammation and promotes blood flow to kickstart the healing process.
Posture correction. Poor posture imposes extra pressure on your joints. A chiropractor can correct your posture and realign your spine.
Nutrition counseling teaches you what foods to eat to avoid inflammation and control your weight.
What Is Stem Cell Therapy for Knee Pain?
Your Lake Worth chiropractor may take stem cells from bone marrow or fat. They are injected into the knee joint to promote healing. Stem cell treatment has the following benefits.
develop cartilage cells
reduce inflammation that worsens arthritis pain
produce cytokines that slow down the deterioration of cartilage
Where Can You Get Lake Worth Chiropractic Care?
Dr. Jack J. Cacic provides chiropractic care to clients in Lake Worth and Palm Beach County, where he has practiced for over 15 years. His Bachelor's Degree is in Human Kinetics, the science of movement. Dr. Cacic received his Doctorate Degree in Chiropractic from the prestigious Canadian Memorial Chiropractic College.
Find out what Dr. Cacic and the rest of the team can do to help you alleviate knee pain. He is a firm believer in continuing education and constantly attends courses and seminars to educate himself on new physical and manual techniques that might benefit his clients. Contact Lake Worth Chiropractic and Wellness at any time to make an appointment or to discuss your knee pain.